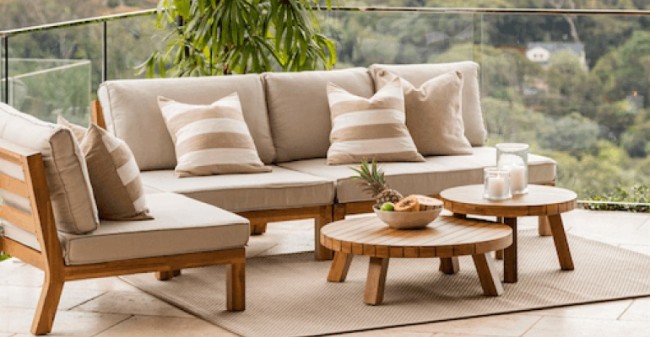 As summer comes, it's time to fill your living space with bright colors and uplifting sentiments. The shades you choose for your living room may significantly influence the overall ambiance and mood of the area. SKF Decor Pvt. Ltd. stands as the pinnacle of excellence in furniture manufacturing and interior decor services, emerging as the unrivaled leader in the industry. Our masterfully crafted sofa sets have garnered adoration and praise from discerning individuals in Delhi. We are among the most reliable and leading Furniture Manufacturers in the country because of our focus, aim, and commitment to providing our clients with furniture of the highest quality. Our emphasis and commitment to excellence have been recognized by our customers, who return to us for more. Let's look at the finest colors to bring summer couch sensations into your living room, whether you want to create a tropical sanctuary or a breezy seaside hideaway.
Relaxing Blues for a Coastal Getaway:
Cool blues are ideal for your living room if you want a peaceful beach retreat. To suggest the soothing colorings of the water:
Use aqua, turquoise, or seafoam.
Combine them with white or light-neutral furnishings to create a bright, airy atmosphere.
Finish the appearance with nautical-inspired decors such as seashells, driftwood, and beach-themed artwork for a touch of seaside appeal.
Sunny Yellows for a Vibrant Pop of Colour:
Incorporate bright yellows to give your living area the warmth and vigor of the sun. Yellow adds a bright and uplifting atmosphere to every room, from gentle pastels to intense and brilliant tones. Yellow may be used as an accent hue in throw pillows, drapes, or a statement piece of furniture. Pair the yellow tones with neutral tints such as white, cream, or light grey to offset the brightness and create a pleasant summer mood.
Natural Oasis with Refreshing Greens:
With soothing tones of green, you can bring the lushness of nature into your living space. Green tints like mint, sage, or lime provide a relaxing and revitalizing effect. Consider using green as your primary wall hue or incorporating it via decorative items like plants, artwork, or furniture. Green complements natural elements such as wood and rattan, giving your living space a fresh and organic feel evocative of a tropical retreat. SKF Decor Pvt. Ltd. shines as the preeminent furniture manufacturer and provider of interior decor services, capturing the hearts of individuals in Delhi with their exquisite sofa sets, beds, and other furniture items. If you are in search of a Sofa Set, either contemporary or traditional, our firm is the best place to buy it.
Energetic Oranges for a Vibrant Twist:
Consider integrating brilliant tones of orange into your living area for a strong and dynamic summer vibe. Orange adds warmth and passion to any space and may quickly improve one's spirits. This color provides a vivid touch to any design, whether you pick a burnt orange, coral, or tangerine. For a harmonious and bright living room, use orange as an accent color in cushions, carpets, or artwork, and balance it with neutral tones like white or beige.
Soft Pastels for a Dreamy Feel
Pastel colors are ideal for creating a softer and more dreamy summer look. Delicate pink, lavender, or baby blue hues create a serene and whimsical environment. Use pastels on your walls, furniture, or accessories to create tranquility and relaxation. To add to the ethereal feel of your living area, pair them with light and delicate textiles like linen or cotton. Our Modern Sofa Set has become the object of affection for residents in Delhi. It is a stunning piece of decor for your living room.