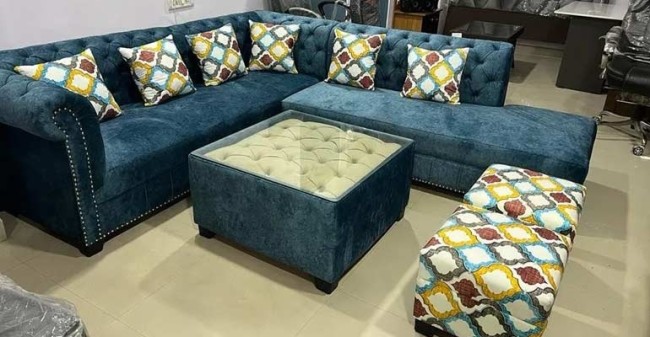 It might be difficult to choose the correct color for your couch set. With so many possibilities available, deciding which color would work best in your area may be difficult. The color of your couch may have a big influence on how your home looks and feels overall. This blog will go through how to choose the best color for your couch set.
Consider Your Color Scheme:
It is important to examine the current color palette of your home when choosing the color of your couch set. Determine the prevailing colors in your space. Take into account the walls, carpeting, drapes, and other items of furniture. Pick a color that will complement rather than conflict with these current hues. Choose a couch set in a complementing warm hue, such as burgundy, navy blue, or olive green, if your room is mostly beige, gold, or brown. SKF Decor Pvt. Ltd. is one of the best firms that provide a plethora of sofa sets. One of their article, Designer Sofa Set is stylish and highly comfortable. Moreover, they offer sofas in different colors and designs.
Examine Styles and Trends:
Examining current trends and designs may also help you choose what color couch set will fit best in your room. If you want a sleek, minimalist design, a white or gray couch set might be ideal. A brown or warm-toned couch set may be more suited if you wish to create a friendly, inviting environment. We offer Leather Sofa Set that is quite trendy and we have a wide selection of colors and styles to choose from to fit your needs. Visit our website to explore our selection and find the perfect setting for your home.
Consider Your Existing Lifestyle:
While selecting the color of your couch set, keep in mind your lifestyle and everyday activities. If you have children or dogs, you may want to choose with a deeper hue that hides stains and grime better. If you have a more formal living room that isn't utilized for daily activities, try a lighter hue that will lend a sense of elegance and refinement to the area.
Consider the Emotion You Want to Create:
The color of your couch set may also contribute to the creation of a certain mood or environment in your space. Consider using a cool-toned hue such as blue or green to create a quiet, pleasant setting. Consider using a brighter hue such as red or orange to create a more lively, colorful mood. We provide a Luxury Sofa Set that fits in any aura.
Take Samples:
Bring home several fabric samples to check how they appear in your decor before making a final selection on the color of your couch set. The lighting in your space may have a major influence on how the color of your couch set looks, so it's critical to examine it in various lighting circumstances. Consider how the color of the couch set will seem throughout the day, since the lighting in your space may alter depending on the time of day.