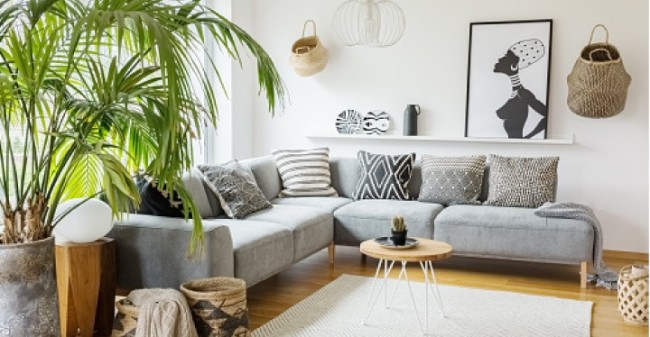 The sofa set is more than simply furniture. It is the focal point of your house, the area where memories are built and valuable time is spent with loved ones. The perfect sofa set is determined by your lifestyle. Examine your regular routine and favorite hobbies. Choose a sofa set that is sturdy and simple to clean if you have children or pets. If you like entertaining visitors, consider a sofa set with a comfortable sitting configuration that accommodates more people. Here are five reasons why the sofa set is the focal point of the living room:
Relaxation and ease:
The fundamental function of the sofa set is to give you and your family a pleasant and soothing spot to rest after a hard day. A comfy sofa set is a must-have in any house. To guarantee optimal comfort, look for a sofa set with velvety cushions, a strong frame, and a comfy backrest. The company SKF Decor Pvt. Ltd. is a true leader in furniture and decor. Their Wooden Sofa Set is one of their most loved items. It features a combination of traditional and contemporary designs, making it perfect for any home. The high-quality wood and attention to detail make it a timeless piece that will last for years. It is an ideal choice for those who want to make a statement with their home decor.
Centrepiece for entertainment:
The sofa set is also the highlight of your home's entertainment. It is a place where family and friends may get together to watch movies, play games, and enjoy one another's company. Adding a built-in recliner or a chaise lounge to your sofa set may enhance your entertainment experience.
Home Accent Piece:
The sofa set is also a focal point in the room. It is usually the biggest piece of furniture in your living room, making it the center point of your house. Selecting the perfect sofa set may improve the look and feel of your living room. The bedroom is the focal point of a home and a sofa set makes it a more inviting place. SKF Decor Pvt. Ltd. offers a Living Room Sofa Set that is an excellent piece of decor. It can add charm to your room. This provides comfortable seating and an attractive look to the room.
Bonding and Socializing:
At your house, the sofa set is also where socializing and bonding take place. It's where you unwind with your family after a hard day, meet up with pals over coffee, or watch a game with your friends. It is a place of comfort and connection, where you may make lasting memories with your loved ones.
Multipurpose and adaptable:
A sofa is a piece of furniture that is multipurpose and adaptable. It may be used as a guest bed, a reading area, or even an office in your house. Selecting a sofa set with storage or convertible elements may increase its utility and turn it into a valuable asset in your house. Wood is the most preferred material when buying a couch set. SKF Decor's Wooden Carved Sofa Set is no less than a piece of art. It has intricate carvings that enhance its beauty and is made of high-quality wood. The sofa set is appropriate for living rooms and enhances the overall look of the room.