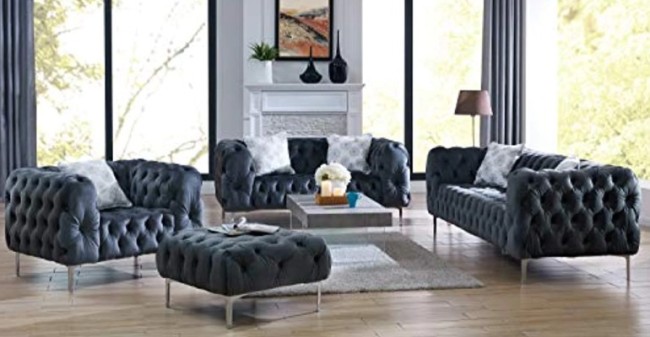 A plush sofa set is not just an article of furniture; it's an investment in your comfort and well-being. It's a place where you relax after a long, busy day, curl up with a good book, or entertain friends and family. Investing in a plush sofa set is one of the crucial choices you can make for your home. SKF Decor Pvt. Ltd. focus on providing custom designs and exceptional customer service makes it a leading furniture manufacturer. They are the ideal destination to buy a Designer Sofa Set since their furniture is made with materials of the highest quality, and they offer a wide range of options. Their buyer service is second to none, and they provide amazing after-sales support. Their competitive prices make them a first-rate choice for anyone looking for quality furniture. Here are five reasons why a plush sofa set is a must-have investment.
Comfort and Durability:
A plush sofa set offers unbeatable comfort and durability. These pieces are designed to provide maximum support and comfort, allowing you to sit for extended periods without discomfort. They're also crafted with high-quality materials that are durable and long-lasting, ensuring that your investment will last for years to come.
Style and Elegance:
A plush sofa set is the epitome of style and elegance. These pieces are designed with an eye for aesthetics, featuring luxurious materials, intricate detailing, and elegant silhouettes. These excellent sets are available in a range of styles, from vintage and traditional to sleek and modern, ensuring that there's a plush sofa set to suit every taste. Customers can trust SKF Decor Pvt. Ltd. to provide the highest quality furniture that is constructed to last for years. Their Leather Sofa Set has been in demand for years because of its looks and elegant design it achieved after research and hard work with designers.
Versatility and Flexibility:
A plush sofa set offers incredible versatility and flexibility. These pieces can be arranged in multiple configurations to suit your living room's layout and your preferences. They are available in many dimensions, from compact two-seaters to spacious sectionals, ensuring that there's a plush sofa set to fit any space.
Health Benefits:
Investing in a plush sofa set can have health benefits. These pieces are designed to provide maximum comfort and support, which can help alleviate back pain and other discomforts. They also offer excellent lumbar support, which is essential for maintaining good posture. SKF Decor Pvt. Ltd. is a reputable furniture manufacturer that is committed to delivering exceptional and unique pieces like Luxury Sofa Set that cater to customers' needs. The business has established a sound reputation for providing quality furniture that is both stylish and affordable. They boast about their attention to detail and craftsmanship, creating pieces that are sure to be statement pieces in any home.
Increased Home Value:
A plush sofa set can increase your home's value. These pieces are an excellent investment in your home's interior design, adding both style and functionality. A well-designed living room with a plush sofa set can make your home more enchanting to potential buyers, which can raise its resale value.
So why wait? Treat yourself to a plush sofa set today and experience the comfort and luxury that it has to offer.